Yo – Hey! It is 1:44am and I should be in bed!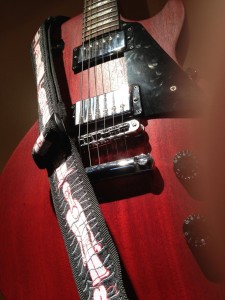 I have been working a lot lately and not playing guitar all that much. I love the work I do so I am definitely not complaining. Around midnight I turned around and picked up a guitar. Believe me when I admit that this is a dangerous thing for me to do! There have been times in the past when I would pick up a guitar and not put it down for 3 or 4 hours. Tonight I had a sound in my head that I wanted to get out. A little riff that I wanted to experiment with. Not sure where it came from. Not sure it is even completely mine – though I hope it is.
What is it about a guitar riff that is so powerful, so memorable, so engaging? How can it stick inside your head? How can hearing it on a radio turn a troublesome day upside down? Music is an amazing, awesome thing! Take a moment to think about some of your favorite riffs. Even if you are not a musician, there must be some recognizable musical pattern that moves you or brings out a smile. Is it the intro to Sweet Home Alabama or Sweet Child of Mine or one of the tens if not hundreds of masterful riffs by Eddie Van Halen? Just a few notes will take you some where – Cabo Wabo just came into my mind.
At any rate this is a rather random stream of consciousness type of post. I sometimes ramble before I sleep and sleep is soon my destination.
I let this riff in my head out and captured it with my iPhone and threw it up on YouTube. There are timing glitches and some general sloppiness but in the midst of the mess there is something that I rather like. Something that might be nice to improve upon. Maybe I'll try throwing it into garage band and see if I can turn it into something bigger.
Thanks for listening and as always drop me a comment and check out my YouTube channel. At some point I'd like to find the time to do a recording or video that I can be really proud of – something that I invest some real time into and something that is really worthy of your time to check out.