Yo big nerds!  Today was the last full day of training at the Big Nerd Ranch.  We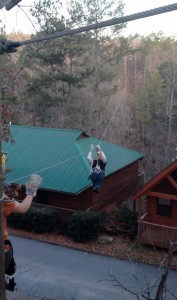 only have a half day tomorrow before starting the long drive home and consequently this will probably be my last post on the topic.
For anyone considering training for iOS, advanced iOS, Python, Ruby on Rails, OpenGL, or Android I cannot recommend this place enough!  The week has truly been amazing!  You would think after all of the hours clocked behind this computer listening to instruction on advanced iOS topics I would be tired but I am still full of energy and excitement from the week.
The people here have been great.  I have tried to meet and talk to as many fellow classmates and instructors as possible and the discussions have been fantastic.  We have a surgeon, folks from the two biggest computer companies in the world, independents and entrepreneurs, companies big and small, etc.  They hail from all over the world and have converged upon these small cabins in the middle of nowhere Georgia to share stories and learn from the masters in iOS development.
Today's topics included mapping a live video capture stream onto an OpenGL texture map, many demos from our classmates and teachers, UIScrollBar magic, and deeper looks at Grand Central Dispatch and the NSOperationQueue.  We had another late night session tonight as well on Computer Vision.  My list of "cool" app ideas and enhancements to my current apps has been growing all week.  If only I could figure out a way to skip sleeping!
If you have read my previous posts this week you may remember my fascination in those zip lines here at our class location – Historic Banning Mills.  This afternoon we took a break from studying and several of us got to do this!  I have to admit for the last hour leading up to the departure I was feeling pretty uneasy and anxious as I didn't know what to expect.  My nerves were getting the best of me.  Somehow I ended up being the last in our group to go down the first wire but WOW what a RUSH!  The wind and the height and the speed!!!  For our very first run we "flew" over the Snake Creek in the gorge far below.  I didn't see it too well because I was clinging to the straps for my life but about part way thru I realized THIS IS REALLY FUN!!!
Next up we did a series of sky bridges that I actually found a bit more stressful than the high speed run.  We climbed from tree to tree across bridges of less and less material.  What the heck?  DId they run out of wood boards? Did they use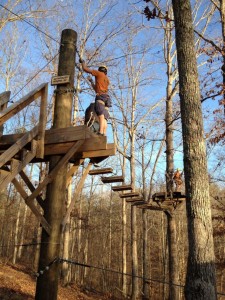 them all up building those massive towers?  🙂  Nope just part of the challenge.  Many times we were only walking on single cables but I have to admit it really was fun!  I even jumped up and down in the middle of one of them!
Anyway, thanks to the folks at the Big Nerd Ranch, the folks at Banning Mills and the Screaming Eagle Zip Line Tour for a truly memorable and incredible week!  I really hope I can come back for another class in the future – maybe OpenGL or some more advanced Mac development stuff…
Time to go pack up my stuff so we can leave tomorrow…