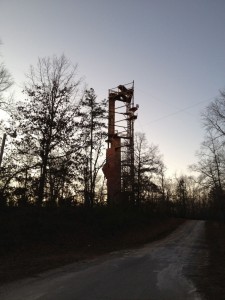 Howdy partner!
It was a long day of driving but we are here! We left around 9 am and drove straight from Cincinnati to the south-west side of Atlanta only stopping for gas and a short lunch at Fazolis.
The last several miles were just 2 lane roads which seemed to take forever but we had a nice marathon session of audiobooks and NSBrief podcasts to listen to.
After driving deeper into the middle of nowhere we ended up at the red dot on the iPhone GPS – Historic Bannning Mills. When we got here, we weren't sure we were in the right place. There were a bunch of cabins in the woods and zip-line tree stands all over the place. It looked like a fun place – really not what you'd expect from typical training – though we are not expecting typical training – this is an Advanced iOS bootcamp after all!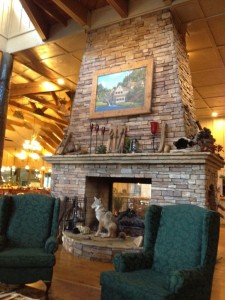 At the bottom of a hill was the main lodge building which I've got to say is really cool inside. I love lodge-style architecture and this one has the essential heavy exposed wood beams, large stone fireplace, cool spiral wood and wrought iron stair case, and the quintessential nice assortment of stuffed animals. Some nice soft bluegrass music is playing here as I type this.
My cabin is pretty nice too! I don't like cold so I was very pleased to see that I have my own gas fireplace. Actually it looks more like an old wood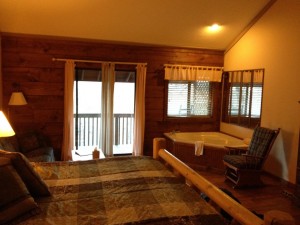 burning stove but it can generate heat! The corner of the room has a big whirlpool tub which I really doubt I will have time to use but it makes the room look nice. The balcony in back has a great view of the stream in the valley below complete with the nice subtle roar of the small waterfalls. If it was warmer, I would leave the door open!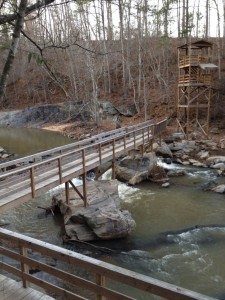 Before dinner I took about 15 minutes to quickly explore the nearby trails. From the map, it looks like there are trails everywhere. I love hiking and exploring so this is really cool! There are ruins of old buildings and an old dam.
All kidding aside, this looks like a great place to focus and learn isolated from the hustle of the nearby city. I doubt I am going to have any time for ziplining or much time to hike though I will try to get out for a few minutes if we have breaks!
The syllabus looks broad and intense. It covers a lot of things that I am really looking forward to hearing more about. Class begins tomorrow at 9am sharp!